Action packed discipleship for men and boys!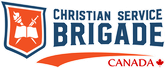 Young men Grade 3-12 attend Brigade! A dedicated team of 'Captains, Rangers and Lieutenants' disciple these young men every Wednesday, September - Spring. In addition to their regular meetings which involve check offs, formations, projects, post meetings, honors and stories, the guys also enjoy some fun events such as a Riverhills campout, laser tag and paint ball events. The Stockade "Shape-N-Race" has become an annual exciting event!
The Brigade program is divided into two groups:
Stockade - Grades 3-6
Battalion - Grades 7-12
Both Stockade and Battalion meet every Wednesday from 7pm-8:45pm and runs in partnership with MB Church.
Dates: September to May
Location: Salem Church in Waldheim
Leadership: Scott Langelaar, Ryan Dueck, and Brad Merkle