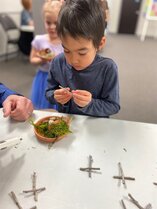 Jesus said, "Let the little children come to me and do not hinder them, for to such belongs the kingdom of heaven."
Children's Church is a ministry to children, (and to their parents), in our church who are Age 3 to Grade 2. Realizing the importance of family worship time, these preschoolers begin the Worship service with their families and then are dismissed before the message for their own foundational age-targeted Biblical lesson. Curriculum currently in use: GO Curriculum.
Location: Education Wing (2nd level)
Leadership team : Angie Boldt & Laura Friesen
If you have a vision for little ones to grow in their love for God and for one another, and would like to be involved in this ministry, please contact Brenda Wiens (Director of Family Ministries) at brenda@salemchurch.ca.