David & Shawna Mwakikuti
David (Shawna) Mwakikuti
Currently serving with OM Africa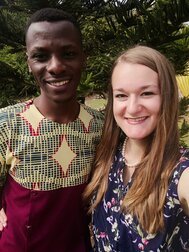 Since 2017, I (David) have been working with OM's Finance Hub in the African Region, serving multiple countries as an accountant. OM is an international organization that equips and strengthens the work of more than 5000 people as they share God's love around the world.
Currently I am serving as the Finance Manager for four teams including Botswana, Malawi, Namibia and Tanzania. This next year I will be overseeing the budgets for all OM Africa (15 countries!).
Even though I am working remotely from Canada, technology is allowing me to continue to serve these teams diligently.