Larissa & Peter Kheir
Larissa (Peter) Kheir
Currently in Egypt, serving with OM Africa
Larissa (Peter) Kheir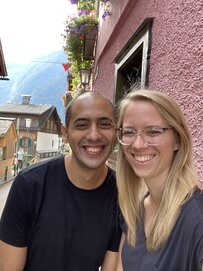 My name is Larissa Kheir (Wiens). I grew up in Waldheim, SK and moved to Zambia in 2013 where I lived for about 8 yrs to develop Tabitha (skills training & discipleship center for vulnerable women) and coordinate various women's empowerment ministries within Africa.
My passion is to see women across Africa come to know Jesus, be holistically empowered and live as vibrant followers of Jesus that are reproducing disciples around them.
I recently married Peter Kheir, and we are currently living in Egypt. I continue to lead Women's Empowerment in Africa, serving the women in sub-Saharan & Sahel regions of Africa.