Mike and Rose Hack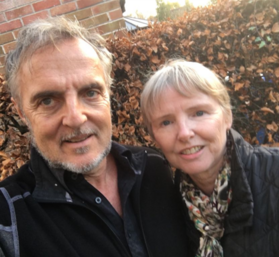 Rose does a lot of work with Press Red while Mike leads and facilitates many Advance Teams throughout the world.
AIDS is a scourge that is killing thousands daily, particularly in Africa.
The church worldwide has been at best, clueless in its response, and for the most part, negligent.
Rose has been asked to develop a strategic Biblical response to this crisis, and spearhead the implementation of it. She has now set up ministries in the Caribbean, Central America, India, Malaysia and various parts of Africa. People, education and money are needed in all these areas.
Mike..... it is all about people: counseling, teaching, preaching... finding resources, serving, networking, raising money and acting as a consultant for church leaders. Likewise overseeing a team of entrepreneurs who are (Laura, Paul, Richard, Marc, Hercul), all Africans who are more apostolic in their work, running ahead of others, paving the way into new territory in business, church planting, schools work, sports, training black African pastors, etc. These are things that do not 'fit into the box' of normal church/mission activity. My team does the work, I keep them accountable and on track.