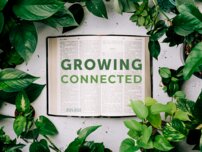 Small Groups are a great way of "Growing Connected", and there are several to choose from! Each week, Pastor James provides a resource to the small groups according to his sermon - many of the groups are following this study.
If you would like more information or are interested in joining a small group, please feel free to contact Pastor James at james@salemchurch.ca or the Church Office at (306) 945-2040, office@salemchurch.ca
Luke & Lindy Siebert
with David & Karin Cameron
Every other Sunday. 6:30pm
Members rotate with hosting.
Following sermon study.
Matt & Leah Tyree
with Mike & Tamzyn Neufeld
Sunday evenings. Potluck supper.
Rod & Brenda Wiens
with Kal & Sandra Rasmussen
Every other Sunday. 6:00pm.
Following sermon study.
Study. Study. Meal/Games. Study. Study. Repeat.
Scott & Heather Langelaar
Every Monday evening except for the last Monday of the month. 7-9:30pm
Potluck/Games once a month.
Bryan & Marian Lester
with Ryan & Rachelle Dueck
Tuesday evenings. 7pm
Twice a month for study. Once a month for a meal and fellowship.
"Our desire is to see people 'grow together' and to know and obey God's call on their life".
Bryan & Cindy Loewen
Two Mondays per month.
Kevin & Crystal Klassen
with Steve & Angie Boldt
Every other Monday. 7-9pm.
No babysitting, but kids can come along if needed.
Following sermon study.
Chris & Rebecca Roth
with Barry & Connie Friesen
Every other Tuesday. 7-9pm.
Occasional potluck/activity.
Pastor James & Jayme VanderVeen
with Nic & Erika Wiens
Every other Thursday. 6:00-8:00pm.
Potluck supper.