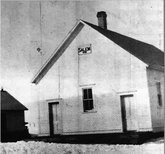 On April 7, 1899, Mennonites came from Bridgewater, South Dakota and settled between the North and South Saskatchewan Rivers. They homesteaded farms 16 miles west of Rosthern and started the Salem Krimmer Mennonite Brethren church in homes.
There was a great revival in 1905 and 30 new members were added to the congregation stimulating the need to build. The original building was a 28' x 40' structure with no basement.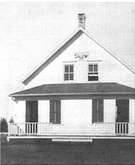 By 1924, a porch and summer kitchen were added. The building was crowded for ordinary Sunday morning services and a tent was set up on the churchyard.
In 1933, there were discussions about enlarging the sanctuary but before any decisions were finalized, the church caught fire and burned to the ground in January 1934.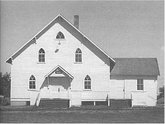 As soon as spring seeding was completed in 1934, the digging of the basement began for the new church building. Throughout the summer, construction began in earnest and on October 14 the dedication of the second church took place.
Sometime in July of 1962 (no date was recorded) the church was moved over roads and through fields from its original location to the town of Waldheim, where it is located today.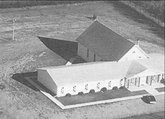 In 1970, the lot west of the church was purchased for $250 with the intent to expand. Four years later, the planning began for the addition. It was not until 1976 that an estimate was given of $73,000 and the building took shape.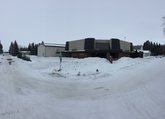 By the early 1980s the old sanctuary was very crowded Sunday mornings. In 1983 a motion was made to investigate enlarging the sanctuary. After many plans were presented, in June of 1988, they finally broke ground. A dedication service was held October 13, 1991 and seven years later they celebrated the burning of the mortgage.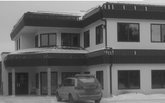 In 2008, the old sanctuary, classrooms, kitchen, and offices were in need of major repairs. In 2009, plans were proposed to demolish and replace with a new facility... The new building added 20,000 square feet on two floors, with a modern kitchen, 13 dedicated classrooms, 4 office spaces, and a 5,040 square foot gym/fellowship hall.