Trino & Esther Ortiz
Trino & Esther Ortiz
Currently serving in Mexico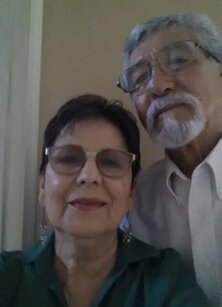 Trino and Esther Ortiz are serving Mexico Family Ministries in Ensenada under Missionary Gospel Fellowship.
The Ortizes are involved in church planting in a very needy area. They are pastoring a church in Monte Hermon EVFC in Ensenada that began in 1989. Their ministries are varied working in the church, outside the church, counseling married couples, conferences, and children's Bible clubs. They also minister through a medical clinic with groups from both the US and Canada in a small town called Puerto Trampa, Ejido Sierra de Juarez.
Missionary Gospel Fellowship is truly a Mission Fellowship organized around the Gospel of Jesus Christ and dedicated to making disciples of Him in North America. As a fellowship we reflect much of the diversity of cultures found in North America. We come from the USA, Canada, Mexico, India, Middle East, Philippines and South America. Our ministries include church planting, coming alongside established churches in training and leadership development, establishing Bible Colleges, outreach to people in institutions such as hospitals, prisons, military bases and universities, and relational support for people from missionaries to those recovering from substance abuse.