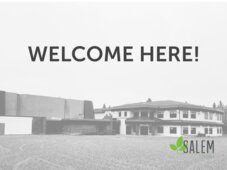 We are excited to have you join us! Whether you are joining us in person or online, we hope you feel at home here. We have plenty of parking available as well as designated parking for seniors, close to our doors. Once inside, there will be someone to greet you and direct you to our many Sunday School rooms, Nursery or the Sanctuary, if you are joining us for our Sunday Morning service. There is balcony seating in addition to our main sanctuary seating. As well, we have a quiet room just outside the sanctuary, with a viewing window, for parents who need to tend to their infants while still listening/watching the service.
How long is the service? We start at 10:30am and are often wrapped up right around 11:45am
What about kids? Kids are welcome at Salem! There is a nursery with trained and screened workers available for 1 & 2 year old children. There is a Children's Church segment during the service for kids age 3 - Grade 3. Children between grade 4 and 6 are each given an activity clipboard designed to help them engage with every aspect of the service.
What's the service like? Salem church has a comfortable family atmosphere. We enjoy both traditional hymns as well as contemporary music. We spend time in congregational prayer. Each week there will be a time of teaching from God's Word. Sermons are rooted in Scripture.
How do people normally dress? We have a spectrum. Some will wear a suit and tie, others will wear a hoody and jeans, many will dress similar to they might if working an office job.
"Go in peace to love & serve the Lord."